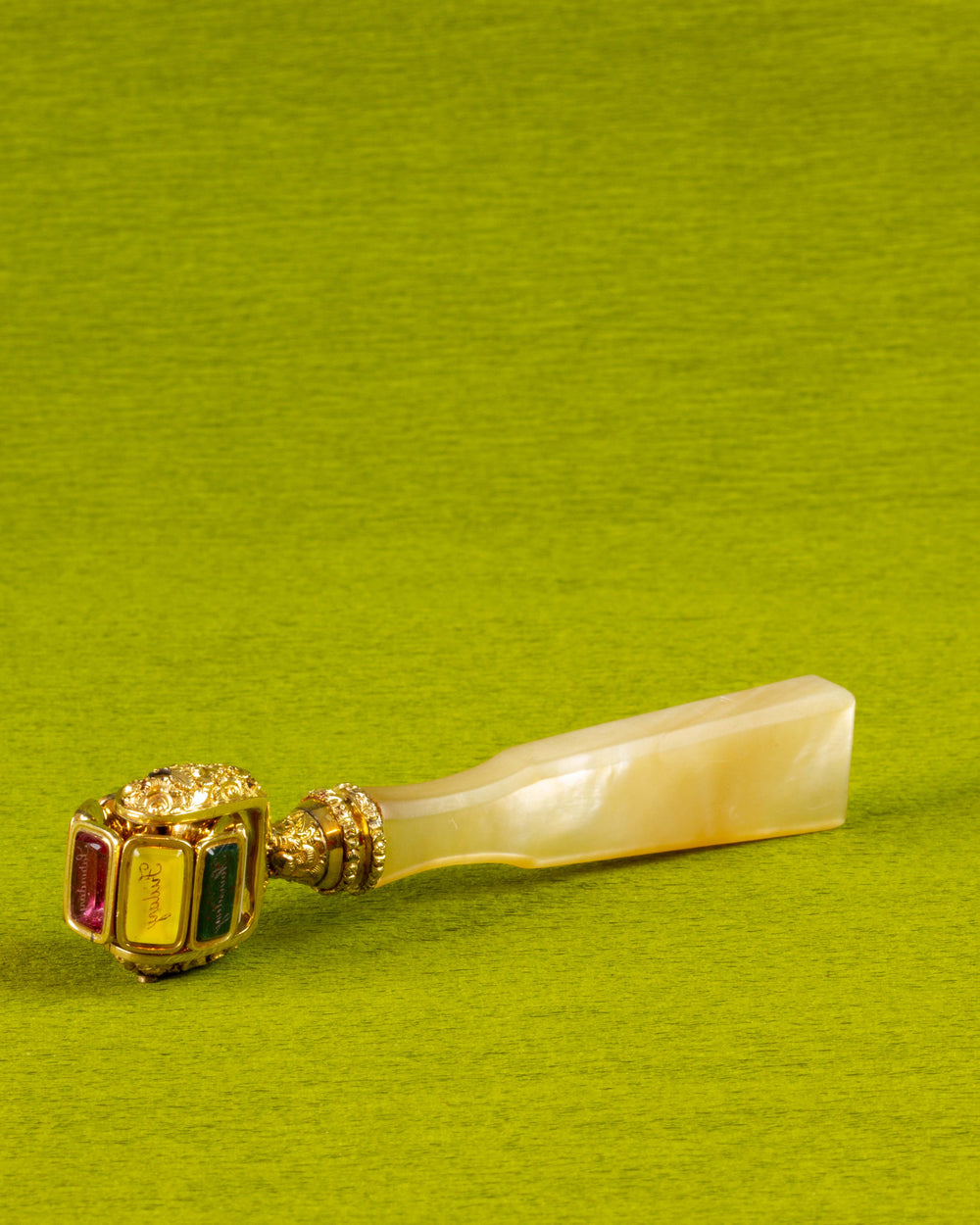 01.
Mother-of-Pearl & Gold Spinning Wheel Desk Seal
A stunning spinning wheel desk seal made with finely cared, tapering and faceted mother-of-pearl handle to a banded, unmarked but tested gold collar and chased side arms and gold spinning wheel featuring seven individual semi precious hardstone matrices, each engraved with a sentimental message.  The intricate nature of the craftmanship displayed on the wheel spokes and side-arms gives an indication to the quality of the piece.
Seal Detail
The spinning wheel offers seven individual matrices, in both subject and material used.  They comprise the following:
| | |
| --- | --- |
| Crystal | MONDAY |
| Green stone | TUESDAY |
| Chalcedony or white glass | WEDNESDAY |
| Bloodstone | THURSDAY |
| Yellow stone | FRIDAY |
| Bloodstone | SATURDAY |
| Orange stone or glass | SUNDAY |
Each of the seven matrices are set in simple rubbed gold mounts and are engraved with days of the week, which would probably depict the day that the letter was written on the outside of the envelope. 
Seal Specification
Height: 90mm (3.54")
Width of wheel: 16mm (0.62")
Weight: 25g (0.88oz)
Condition: The whole is presented in excellent original condition. The body of the wheel appears free from any defect and the mechanism run smoothly.  Each of the seven matrices are intact and appear to be damage free.  The mother-of-pearl handle is intact and attached firmly to the gold collar; the edges appear to be unmarked.