Our Story
Firstly, a warm welcome to our website both to existing seal collectors and to those who have yet to experience our passion! My name is Andrew Morris and I am the curator of The Matrix Collection which is the name given to the 4000+ seals that have been collected over the past 30 years and which are the subject of our book entitled "The Matrix Collection - A Collection of British Seals."
The collection was started by my late father, David Morris, in the early 90's having spent the previous 20 years collecting Scottish Provincial silver which culminated in a Christie's sale in 1984. It was not long after he started collecting seals that the bug bit me and over the past 20 years it has become an important part of my life. Our shared passion for seals became a really important aspect for our day-to-day relationship and whilst we may not have seen eye-to-eye on every subject, we could usually find understanding and interest in seals - it lead us becoming firm friends who could think of nothing better than to pore over the latest auction buy or solve an armorials!
Back in 2012, my father saw the culmination of many years work with the publication of his book, The Matrix Collection. This was initially inspired by the fact that there was not a great deal of information of collections that were typically owned by museums and which rarely saw the light of day. To address this, my father sought to highlight the breadth and scope of seals mainly within the United Kingdom - the range not limited to simply seals used for commerce or by nobility. To be sure, these are included but the scope goes so much further in exploring the social history story of seals that was rarely told. So, with much enthusiasm (as was my father's bent) he set about highlighting seals that were an important part of local history such as The Whitchurch Bridge Company seal which he adored for its extravagance of silver and ivory for a seemingly mundane purpose. The Matrix Collection has since become a well-loved and much appreciated reference book for a multitude of collectors around the world and it is my honour to represent my father's work by promoting it among the pages of this website.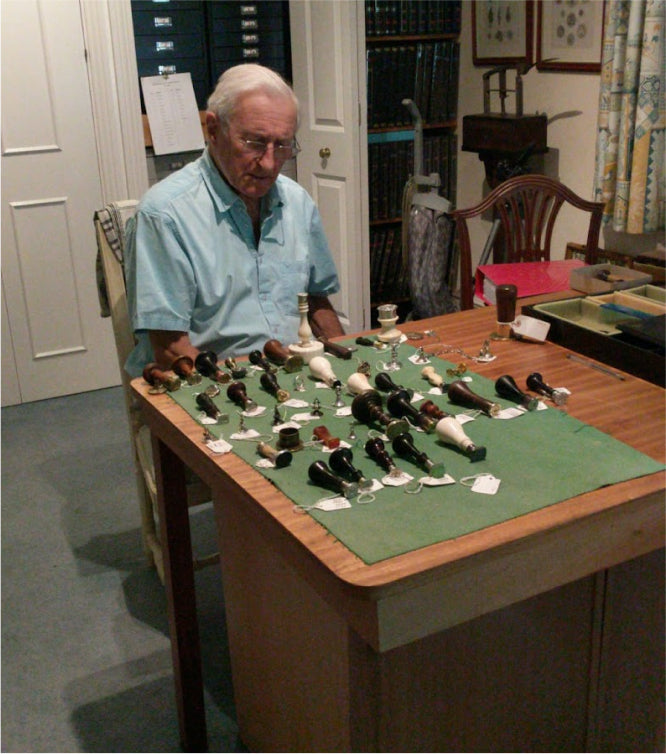 Sadly, I lost my father in 2021, and, although the passion for the subject is still very much alive with me, I have now started to put into place plans that my father and I had agreed to focus the Collection. So, my strategy is to offer seals via various methods including this website and auction-houses across the UK and the Continent. In the process, I want very much to connect with fellow-collectors as talking with others has always been one of our most enjoyable sides of collecting. We have never stopped learning from others.

I hope you enjoy this website and would invite you to get in touch and share your experiences with me.

Why not get in touch - and I will aim to reply as swiftly as I can.