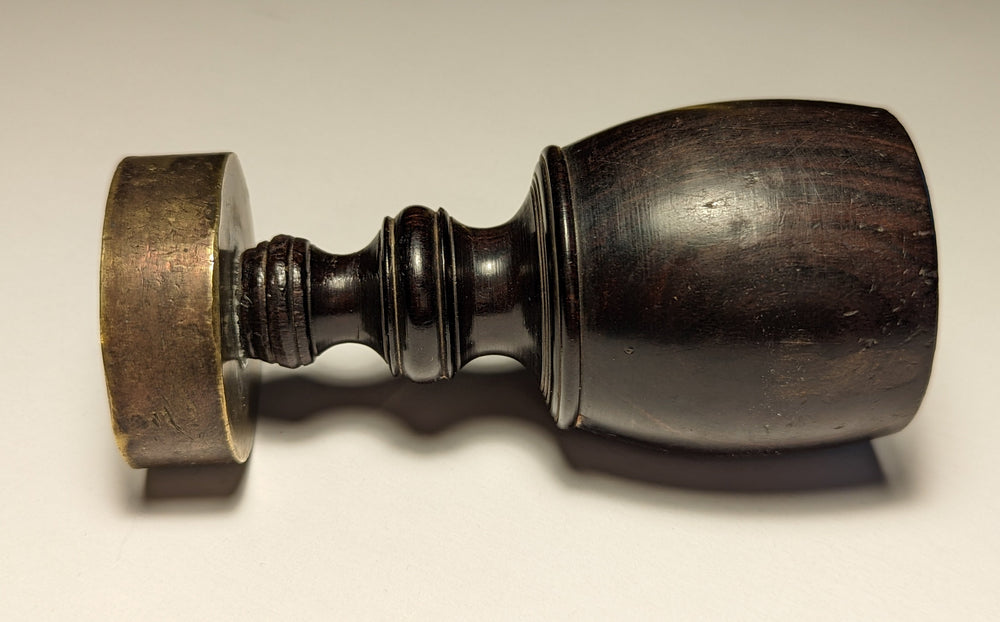 01.
Mahogany & Brass Desk Seal of John Hughes, the First Archbishop of New York
The personal brass & mahogany desk seal of John Hughes, the first Archbishop of New York, circa 1842.
Desk Seal Detail
Substantial, well turned mahogany handle of baluster form and flat top with banded tapering stem to a weighty brass oval matrix; the obverse is engraved with the central shield of office, a cross above under a Priest's hat, supported by tassles for an archbishop, with a circumscription within a beaded border, reading:
JOANNES HUGHES ARCHIEPISCOPUS NEO EBORACENSIS
and a motto below the shield reading:
CLAUDIT ET APERIT
The seal is of John Hughes, an Irish-born prelate of the Roman Catholic Church who was the first Archbishop of the Archdiocese of New York, between 1842 and his death in 1864.
Desk Seal History
A more detailed history of the life of this highly important church figure, John Hughes, is available at Wikipedia here.  Alternatively, a more detailed account of his time in New York is given here which gives us some idea as to his importance at that time.
Seal Specification
Height: 95mm  (3.74")
Width of matrix: 35mm x 40mm (1.37" x 1.57")
Weight: 224g (7.90oz)