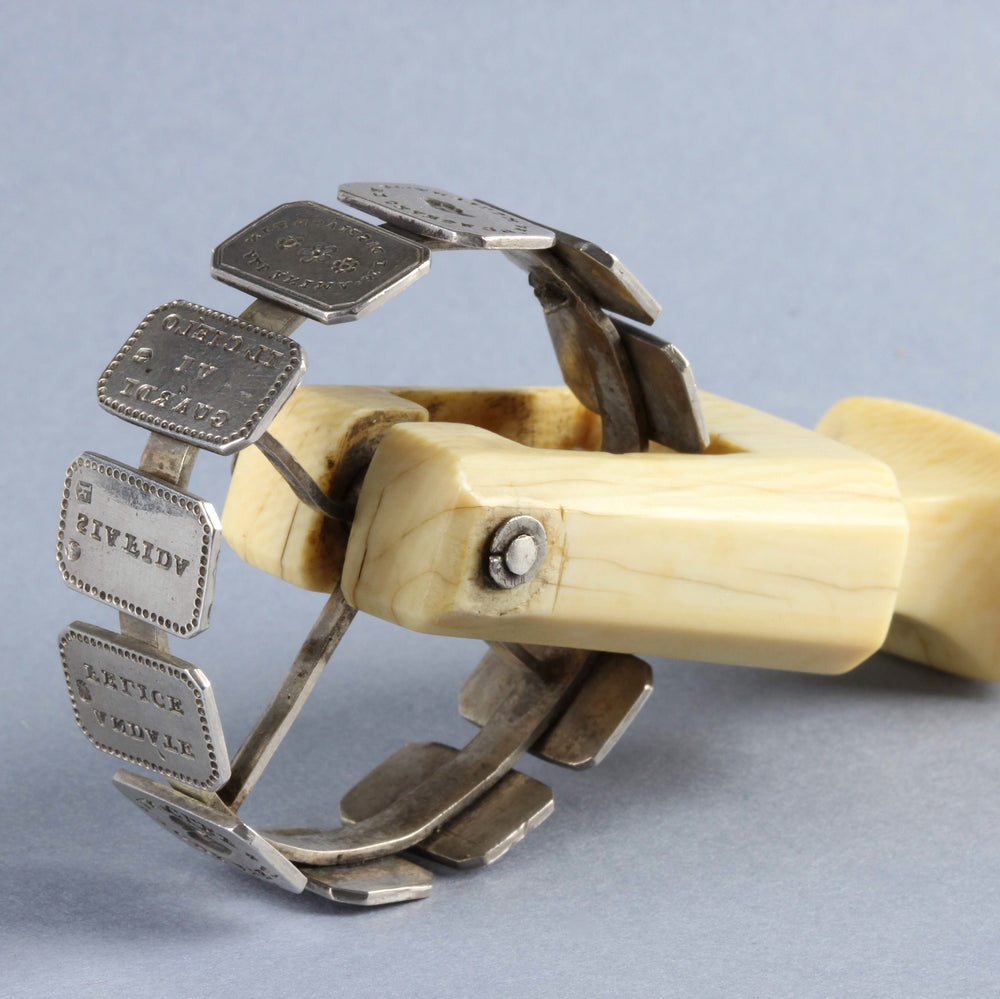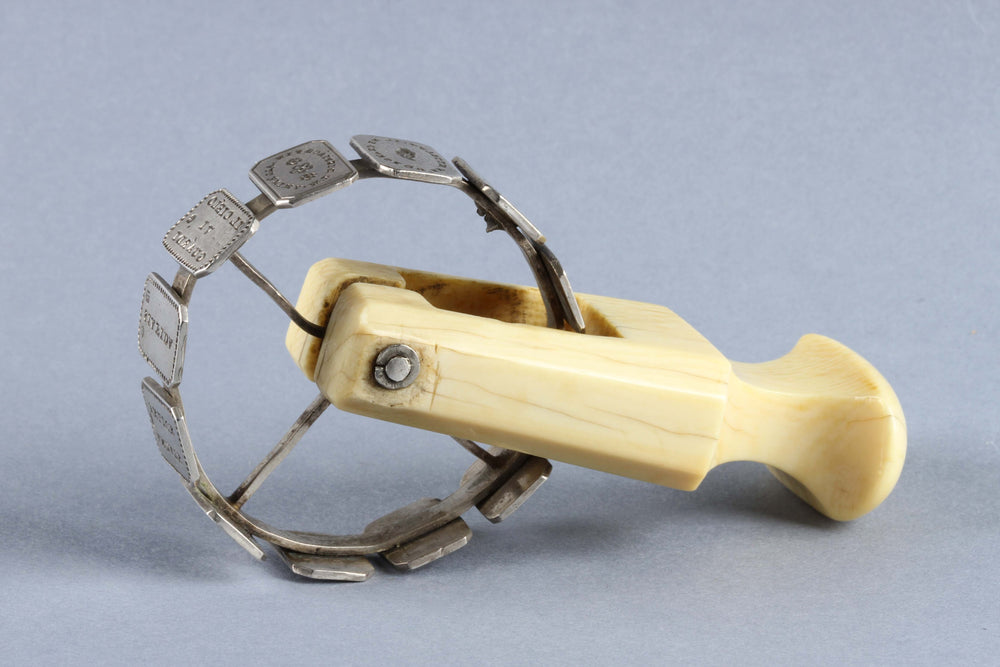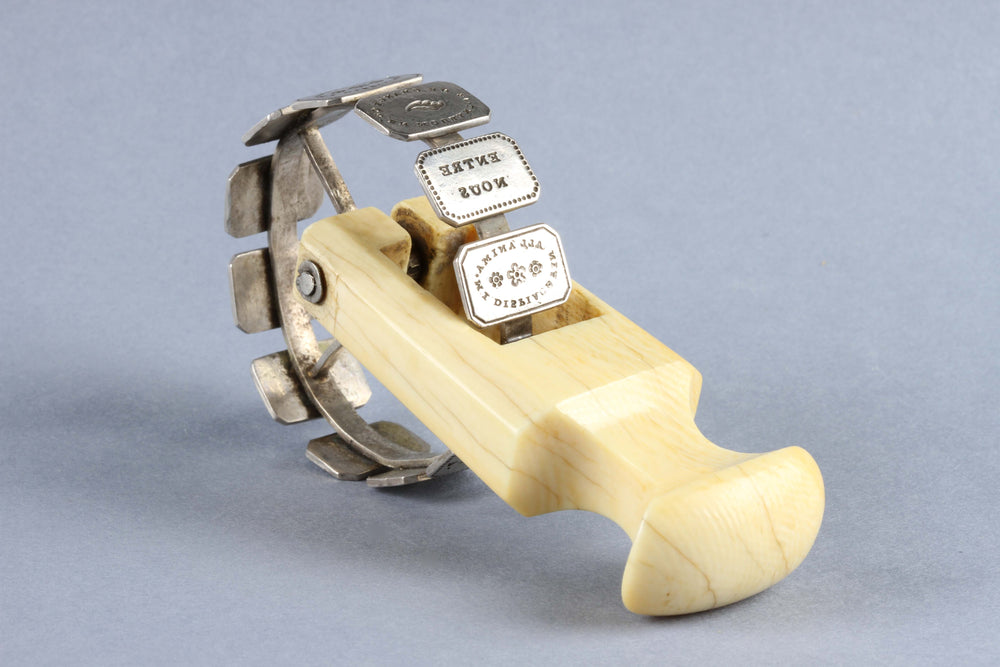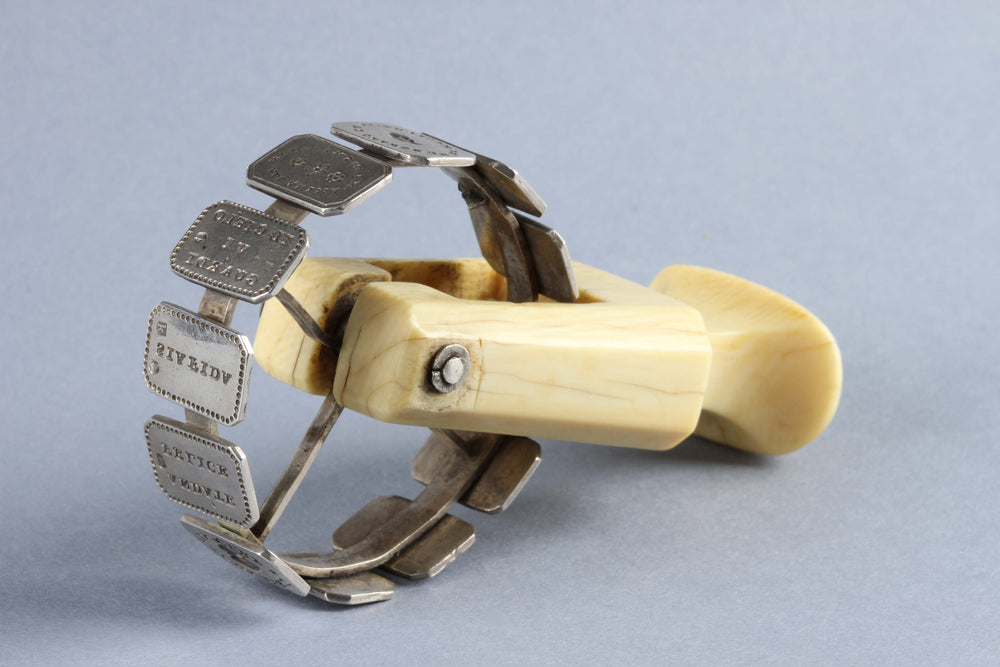 01.
Bone and Silver Spinning Wheel Twelve Matrices Desk Seal
A stunning early 19th century spinning wheel desk seal made with a carved bone handle fashioned to fit a spinning wheel made of hallmarked silver. The wheel comprises twelve individual matrices, each one hallmarked and showing a different sentimental image or picture.  The intricate nature of the craftmanship displayed on the wheel gives an indication to the quality of the piece.
Seal Detail
The spinning wheel offers twelve individual silver matrices, each displaying a different message, comprising:
 ALL ANIMA MI DISPIACE TIN
IL CIELO VI GUARDI
SIAFIDA
ANDATE FELICE
VOUS AVEZ LE CLEF
CHE CONTENTO E L MIO
DE LOIN COMME DE PRES
A TE SOLO
NON DESTARE L CAN CHE DORME
ALL ANIMA MI DISPIACETIN
ENTRE NOUS
NE CHANGE QU'EN MOURANT
The intricately carved wheel with its particularly ornate spokes provide a very attractive setting for the twelve sentimental matrices, which would undoubtedly be used by the owner when replying to personal correspondence, depending on which sentiment was wanted.  This is indeed an unusual spinning wheel due to the size, but also because each of the messages are hallmarked silver and contain a mix of languages.
Seal Specification
Height: 95mm (3.74")
Width of wheel: 52mm (2.04")
Weight: 78g (2.75oz)
Condition: The whole is presented in excellent original condition. The body of the wheel appears free from any defect and the mechanism run smoothly.  Each of the matrices are intact and appear to be damage free.  The bone handle is intact and in remarkable condition given its age.