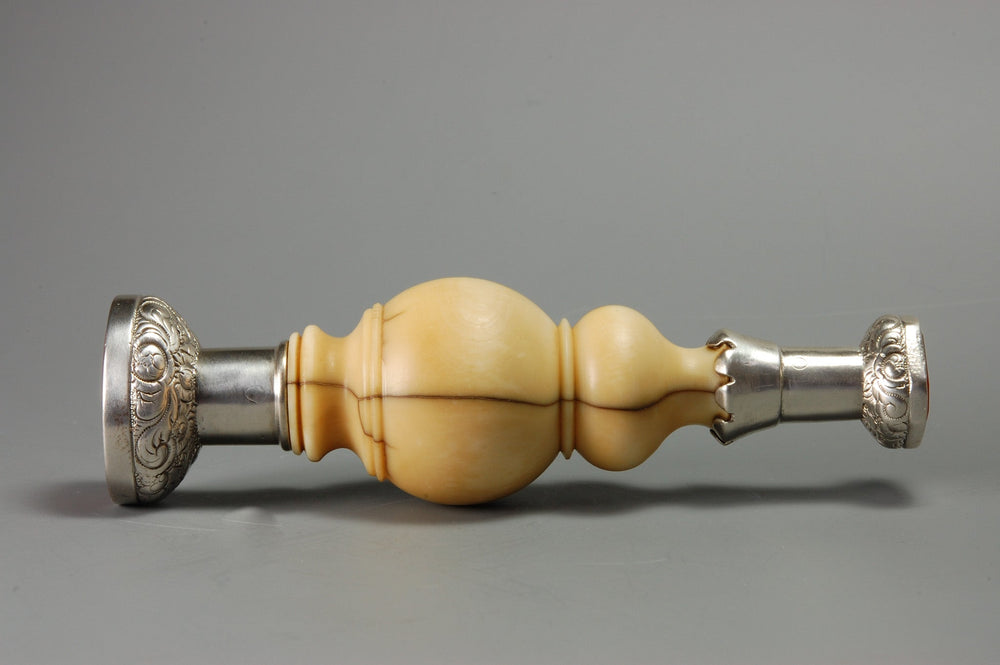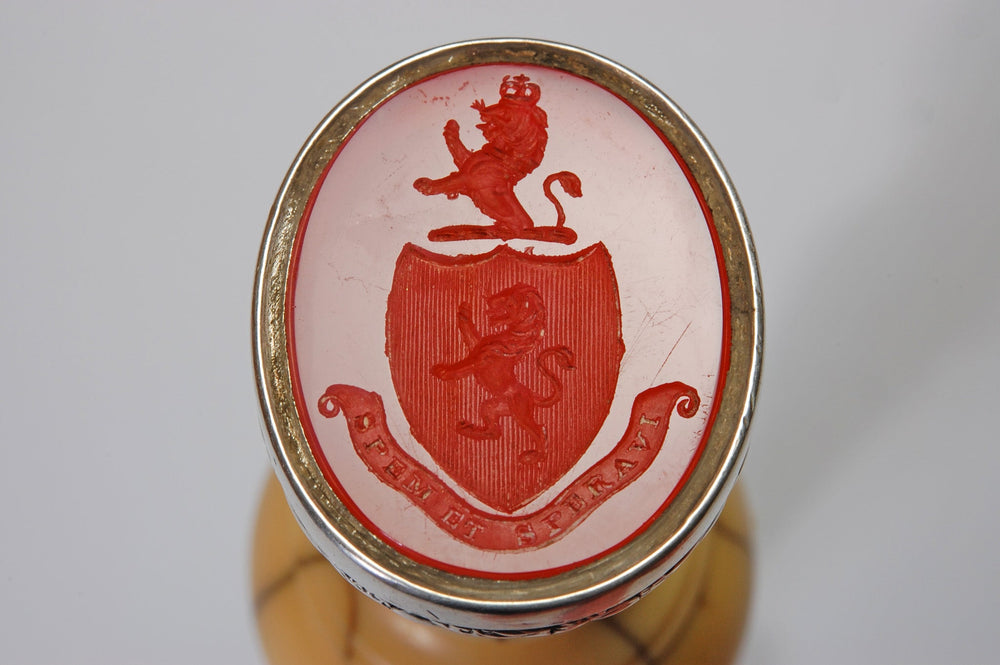 01.
An American Silver, Bone and Carnelian Armorial Desk Seal
A rare and immaculately presented silver, bone and carnelian armorial double matrix desk seal with American ties.  The seal has the arms for an identified family and has been beautifully made with a mix of materials which contrast so well together.  Of especial interest is the fact that this is a double-ended matrix example.
Seal Detail
The seal features a turned bone handle with bulbous centre section with twin tapering stems from each side leading to silver collars, integral silver mounts and carnelian matrices.  The larger is of oval form and is engraved with a shield, crest and motto reading:
SPEM ET SPARAVI ( I hope and hope)
The arms are those of the Markoe family, almost certainly those of Abraham Markoe (1727-1806) who was an American patriot who founded the Philadelphia Light Horse, now known as the First City Troop,
Having been born in the Danish West Indies, he changed his name from the French Huguenot, Marcou and became wealthy by inheritance and trading with both American colonies and Europe.  He went to Philadelphia in 1770, his wife having died and when there were signs of a rebellion, Markoe was the founder and the first Captain of the Philadelphia Light Horse, known today as the First Troop Philadelphia City Cavalry.  The unit was composed of rich gentlemen of the city, who paid for their own horses and equipment.  When the Continental Congress appointed George Washington the Commander in Chief, and Washington departed for Massachusetts on June 21 1775, the Philadelphia Light Horse escorted him through New Jersey to New York City.  As a Danish subject, Markoe could not actually fight in the war because of Denmark's neutrality, but he did contribute to the war efforts in other ways.
This seal comprises dual matrices; one of his crest and motto, the other with arms, crest and motto.   The handle has aged natural fault lines but is intact and the whole is in excellent condition commensurate with its age.
Seal Specification
Height: 100mm (3.93")
Width of matrices: 21mmx25mm and 13mmx15mm (0.82" x 0.98") and (0.51" x 0.59") 
Weight: 60g (2.11oz)