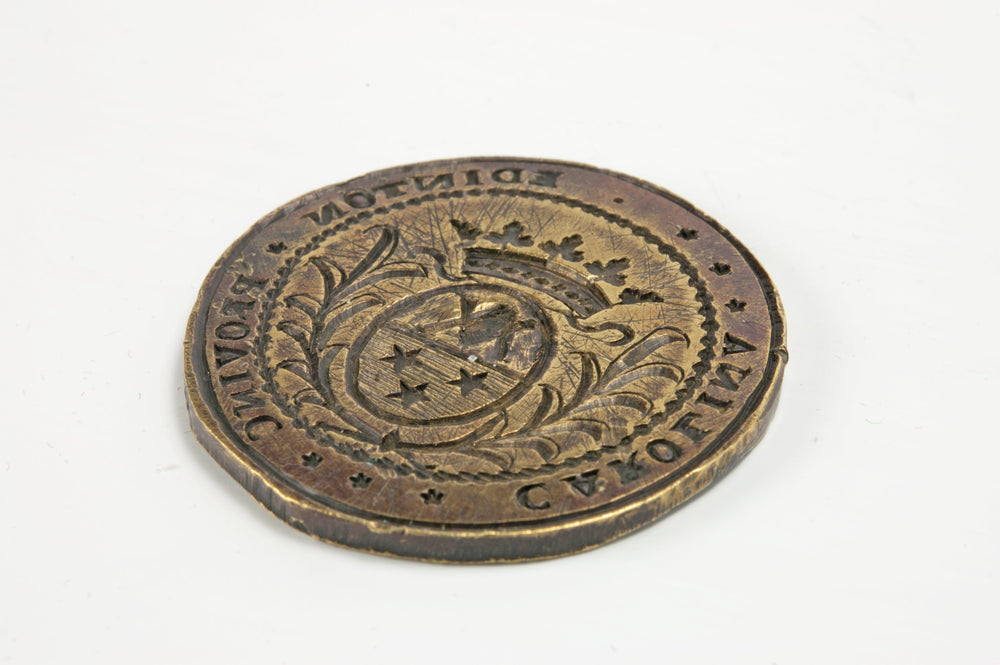 01.
An American Brass Edinton (Edenton) Province Carolina Desk Seal
An interesting and rare brass American desk seal from the Edenton Province situated in Carolina and engraved with the early arms of the province along with circumscription. It is early in nature, having been made in the early 1700's and presented in excellent condition.
Seal Detail
A circular brass disc engraved with a central armorial under a coronet with floral garlands and a circumscription within a lined and beaded border reading:
EDINTON PROVINC CAROLINA **
The seal most likely dates to the 1720's at which time the county name changed to North Carolina in 1729.  However, this cannot be ascertained for sure and the inclusion of the ducal coronet and arms are somewhat confusing.  Lengthy communication with the Private Manuscripts Archivist in the North Carolina State Archives, Raleigh, N.C. hints at the possible use of the seal and origins.  What does seem to be agreed on is that this is a very early seal for this province of modern-day termed Edenton and offers further scope for research upon acquisition.
Seal Specification
Height: 2mm (0.07")
Width of matrix: 32mm (1.25")
Weight: 15g (0.52oz)