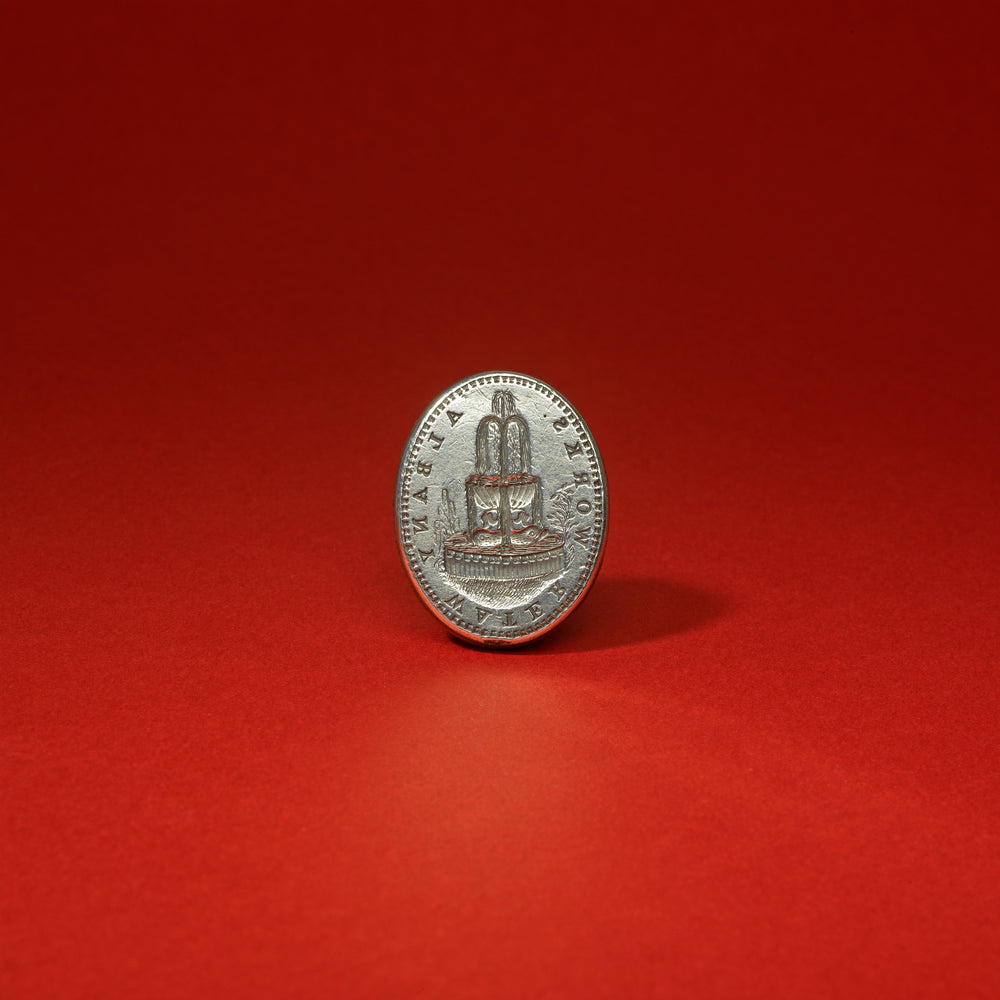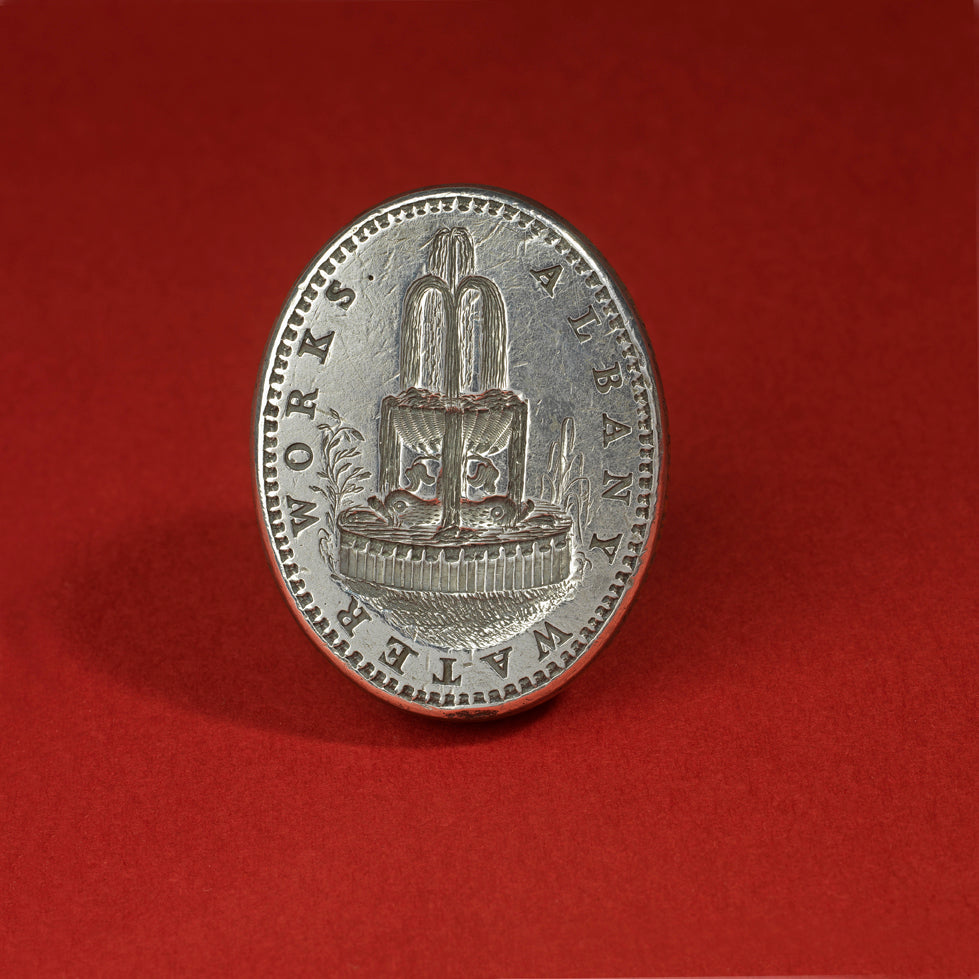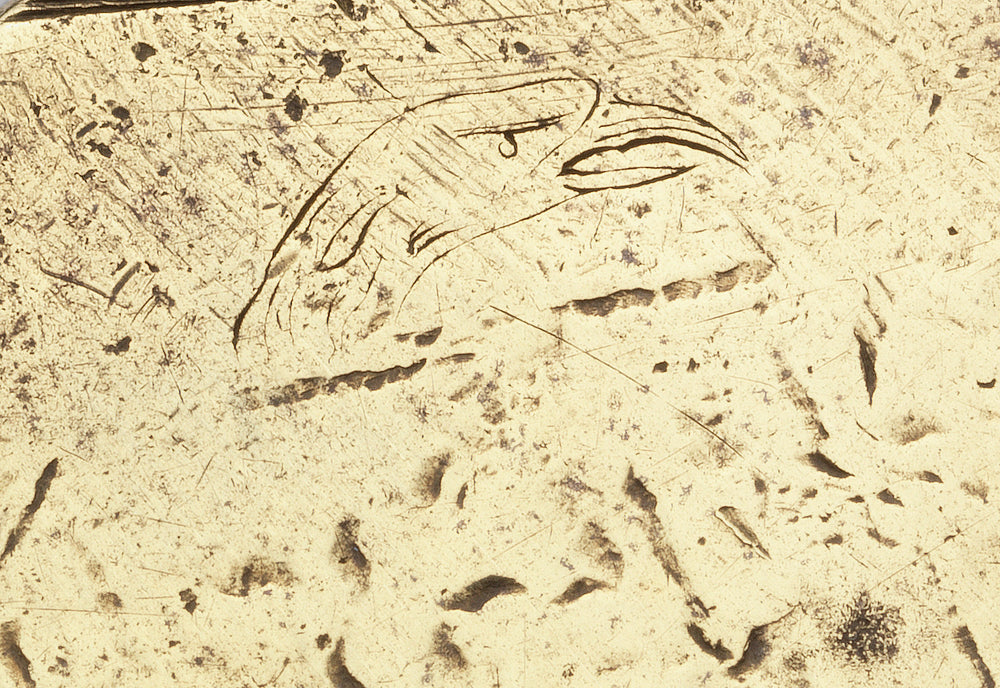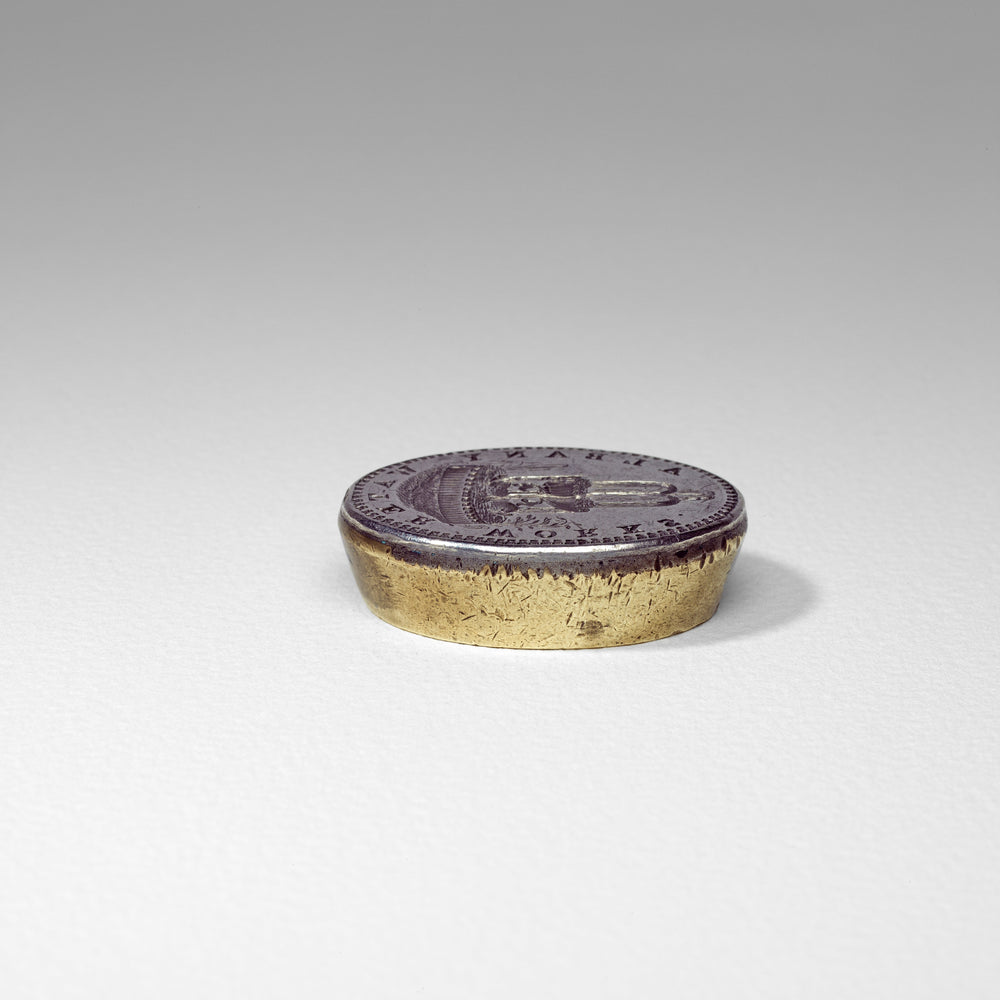 01.
A Silver and Brass Seal Matrix Circa 1802 ALBANY WATER WORKS
Oval with inverted sides, notched at the top as marker, the silver matrix, delicately engraved with a roccoco water fountain with three jets rising from dolphins and shells, within an inscription, milled border, the reverse incised below the marker with an eagle's head.
The inscription reads: ALBANY WATER WORKS
According to information supplied by Virginia B. Bowers, Historian of the City of Albany, it is most probable that this seal dates from around 1802, the date of the incorporation of the Albany Water Works Company.
Before this date, the citizens of Albany either drew water from the river Hudson which flows nearby or from a number of public and private wells.  The water from both these sources was described by contemporaries as on the whole dirty but not unhealthy.  During the 1790's, the Corporation of Albany sought to improve the situation by proposing a water supply which did not rely on wells, without success.  Then in 1802, the Albany Water Works Co was incorporated with a capital of $40,000.  Work was almost immediately begun by laying mains in the principal streets, drawing water from the Maezlandt Kill.  This source rapidly became inadequate and further brooks and streams were tapped until in 1844, the capital of the company was doubled and the Albany Hydrant Company was incorporated.  Extensive surveys followed but no further action was taken until 1850 when legislation was passed to appoint five water commissioners to assume complete responsibility for establishing a good and adequate water supply for the city.
It is probable this seal was made and engraved by a local craftsman since a number of competent silversmiths were working in Albany at the beginning of the 19th century.  It has been suggested that the seal might be the work of the brief partnership, from 25 August 1800 until 5 October 1805, between the clock and watchmaker Hehemiah B. Bassett, who is also known to have worked as an engraver, and the silversmith Joseph Warford.  Their mark was an eagle's head punch, similar to the eagle's head roughly incised on the back of this seal.
Isaac Hutton (1766-1855), on the other hand, the "father of Albany silversmiths" was known for the quality of his engraving: an extant wax impression of a seal made for Union College indicates his ability as a seal-cutter and, from 1803, Hutton was a director of the Albany Waterworks.
Height: 12mm
Width of matrix: 31mmx41mm
Weight: 95g