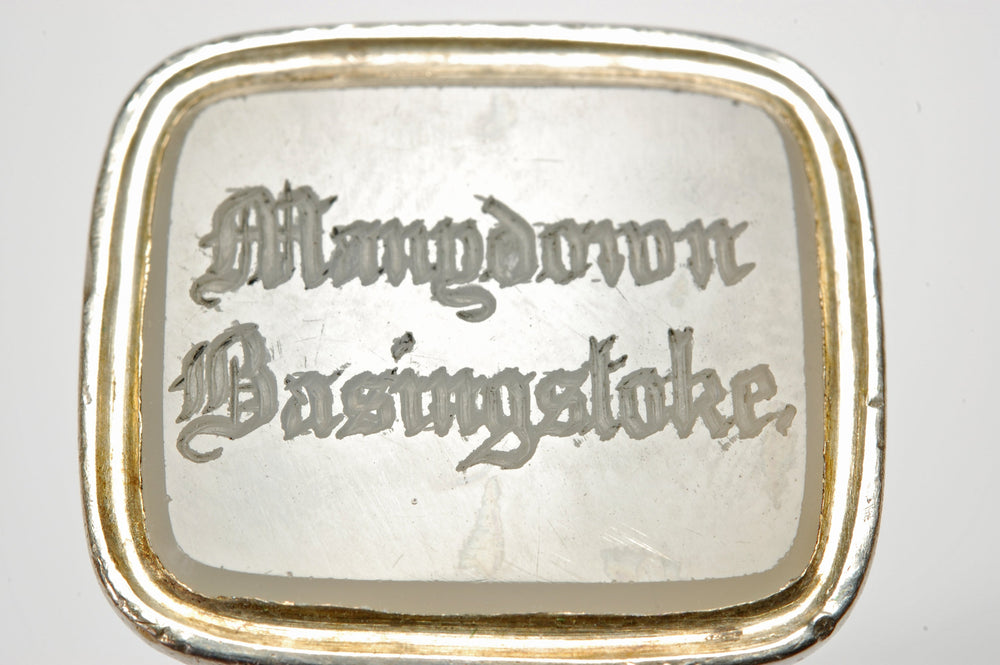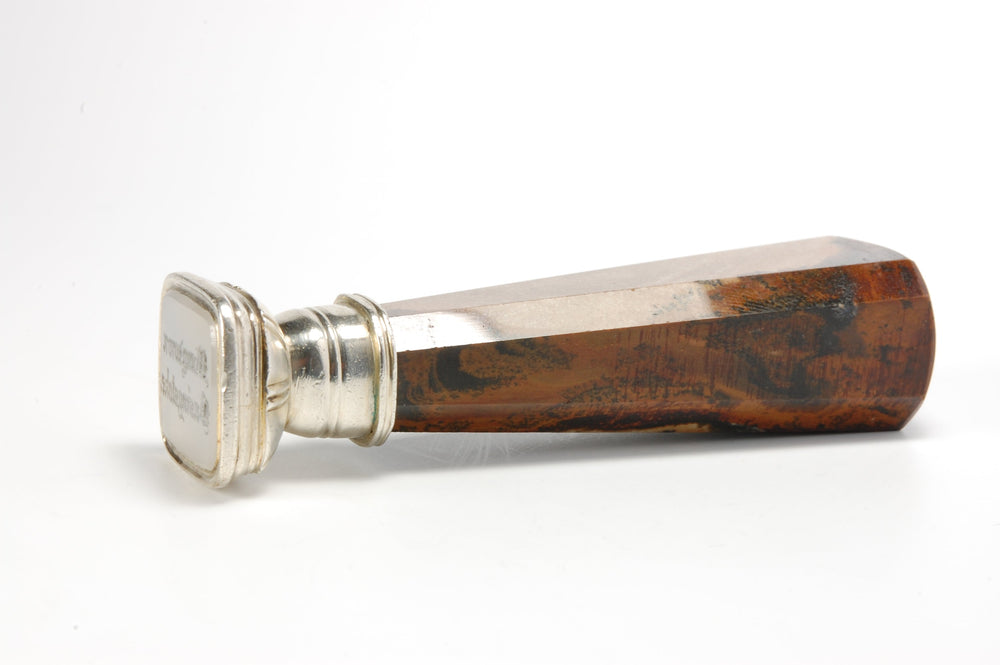 01.
Agate and Silver MANYDOWN BASINGSTOKE Jane Austen Desk Seal
A beautifully elegant agate and unmarked silver desk seal, the chalcedony or white glass matrix engraved with the name of the house, MANYDOWN BASINGSTOKE, the house that Jane Austen was proposed to.
Seal Detail
The desk seal is a lovely combination of unmarked silver and a principally brown agate.  This is not uniform in colour but is comprised of multiple swirls of mottled deeper and lighter browns and is of a tapering form with faceted edges. The silver collar is simple in form, but elegant and leads to a cushion with simple lined embossing to a rectangular white matrix, made of chalcedony hardstone or possibly white glass.  The engraving, in a gothic style, reads MANYDOWN BASINGSTOKE, and relates to the large stately home that once stood at Wootton St Lawrence, just outside Basingstoke, Hampshire, UK.  
Seal Background
This ancient manor estate, originally in possession by the prior of St Swithun at the time of the Domesday Book (1086) had a long and fascinating history, through the Reformation under Henry VIII when it was granted to the Dean and Chapter of Winchester Cathedral and thence to the Wither family and then to the Bigg-Wither line. 

It was during the ownership of the Bigg-Wither family that the history becomes of much interest to fans of Jane Austen, as it was at Manydown, in 1802, that she accepted, then refused the only offer of marriage by Harris Bigg-Wither (although it is believed that Edward Bridges may have.)  The situation became known as "The Bigg-Wither fiasco".  Jane was already a frequent visitor to Manydown and she was friends with Harris from the age of about 14 (he would have been 8).  Much story-writing has been written on the circumstances of Jane's friendship and some of it is documented here for more reading.
Seal Specification:
Height: 73mm (2.87")
Width of matrix: 20mmx18mm (0.78"x 0.70")
Weight: 46g